Gourmet NY Pizzas
Pizza sizes S:10"  M:12"  L:14"  XL:16"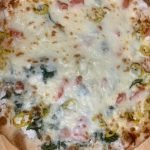 Black olives, mushrooms, broccoli, green peppers, spinach, fresh tomatoes, garlic, extra cheese.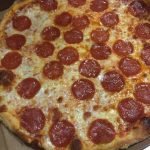 Pepperoni, sausage, beef, onions, mushroom, green peppers, black olives, extra cheese
Ground beef, sausage, ham, bacon, pepperoni, extra cheese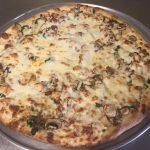 Chicken Spinach Alfredo Pizza
Chicken, spinach, cheese and Alfredo sauce
Our homemade white sauce, mozzarella cheese, spices, garlic and fresh tomatoes
Crispy bacon on mozzarella cheese baked on our thin crust, topped with cold crisp lettuce, tomato and mayonnaise
Our thin crust pizza with creamy pesto sauce. Chicken topped with mozzarella cheese
Steak onions, green peppers, mushrooms and cheese
Barbecue sauce, chicken, topped with copped onions and mozzarella cheese
Grilled chicken, mushrooms, onions, green peppers and cheese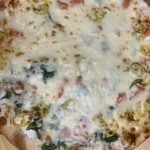 Our homemade white sauce, mozzarella cheese, spinach, banana peppers, feta cheese and fresh tomatoes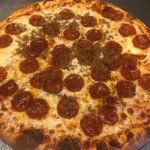 Fresh Tomatoes, Mushroom, Onion, Fresh Garlic, Jalapeno, Pineapple, Black Olive, Banana Peppers, Pepperoni, Ham, Sausage, Bacon, Green Olive, Ground Beef, Broccoli, Bell Peppers, Spinach.